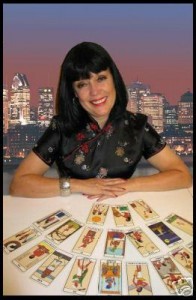 The thought of going to the local fortuneteller or tarot card expert brings up some clichéd imagery. Of course, there is the long strings of beads hanging down from the arch entrance. Behind that, the hollywood standard is a woman with black hair. Mysterious blue eyes? That too.
Chloé St-Amour of Montéal, Canada fits this description pretty well. The difference is she will give you a tarot reading online that you can buy on eBay.
I am Chloé Saint-Amour and I have been practicing clairvoyance with the Tarot for more than 35 years. Ever since I was a child I have been impregnated by the mystery and the science of the Tarot.

I PROPOSE YOU TODAY A PSYCHIC READING OF QUALITY AND TRUTH, WHICH ALLOWS YOU TO TAKE THE GOOD DECISIONS IN YOUR LIFE AS YOUR FUTURE.
So how do you get your reading? Apparently by e-mail. Prepare to be astonished.