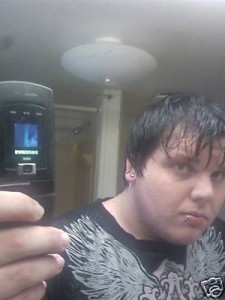 Do you have a web site, business, logo, company name etc. that you are just dying to promote?
Banner ads just don't seem effective as they used to be. Does anyone pay attention to billboards, even in rush hour traffic?
This dude has the answer! He has the new advertising medium you have been dying to sink your marketing dollars into… his buttocks.
Here is a sample of his hilarious blurb, however, be sure to read the whole thing on eBay. It is better to see the real auction for yourself.
I will get a real permanent tattoo of your advertisement, website, tattoo design, logo, company name, or whatever you may think of immediately after the auction closes.

Now a little about me… I'm 18 going on 19 years old. Next week I will be moving to Mount Pleasant, Michigan, which is home to thousands of college students. There are two colleges in downtown Mount Pleasant, Central Michigan University and Mid-Michigan Community College. Another college, Ferris State University, is less than 30 minutes away. I have a passion for music, and love hanging out with people.
Okay, great, he loves tattoos. The part that baffles me is how he thinks his butt is such a great advertising opportunity. Unless he hangs out with his college buddies in the buff, only a few lucky ladies will get to see your ad buy.
Happy bidding!