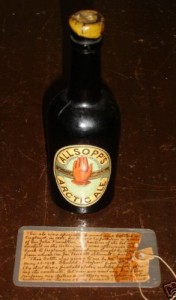 I'm a huge fan of quality beer. Macro brews such as Coors Light or Corona are snubbed in favor of Hacker-Pschorr, Leffe Blonde and Unibroue Maudite. There are much more hardcore fans than I on BeerAdvocate, however I was completely unaware just how deep the well is.
A museum quality sealed and intact bottle of Samuel Allsopp's Arctic Ale from around 1850 (England) currently fetches 500k no problem on eBay. Could this be the holy grail of beer?
Shopping on eBay is supposed to be about bargain hunting. Some are just much better at it than others. A few summers ago, a collector (and budding investor) from Tulsa, Oklahoma ended up making the ultimate beer purchase.
He won the auction for a bottle of Allsopp's Arctic Ale in which the seller made a typo in his auction and spelt it "Allsops." The auction ended with very little interest and only 2 bids for the bottle that was obviously worth so much more than the winning bid of $304.
To add insult to injury, the winning bidder turned around and listed the bottle again on eBay, but this time with the name spelled correctly, and got a whopping 157 bidders and a sale price of $503,300.
That sure shows the power of typos.
Bought by collectordan for $304 ("Allsops" misspelling).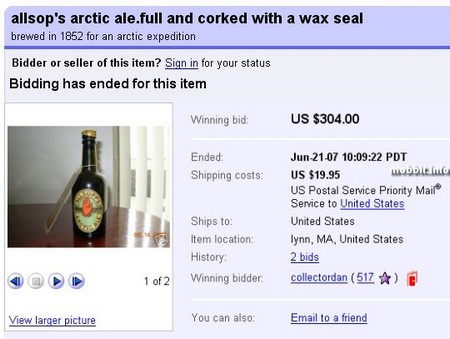 Sold by collectordan for $503,300 (Corrected spelling).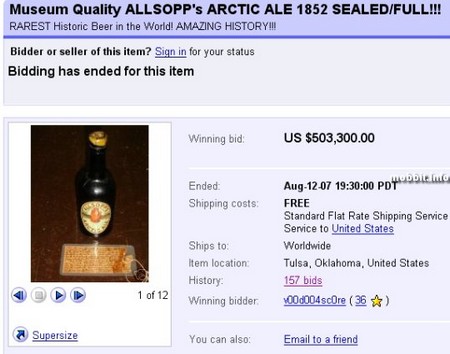 How did he find the original auction?
He might have been among the small percentage of eBayers that browse for items as most use the search function. It's hard to say how he came across the original auction since competing bidders that knew how much it is worth missed it. Most likely this is a case of good timing and good luck.
Ready to search for typo auctions for yourself?
By far, the most efficient way to find typos on eBay is with an online app like TypoHound.
Collectible items have the most promise for using this method to bag bargains. Sports trading cards, rare coins, antiques and vintage guitars are just a few examples.