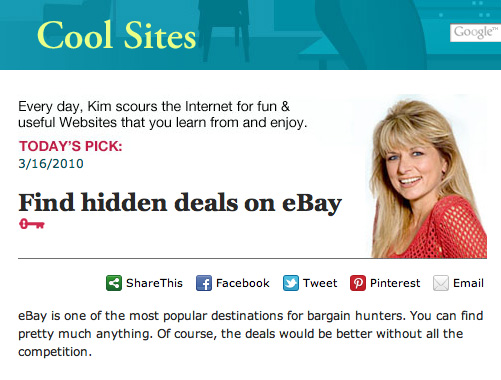 It's been nearly three years since I last posted. Now that's a commitment to slack. So here I am typing at 2 a.m., sipping on limoncello.
In March 2010, TypoHound was named Kim Komando's cool site of the day and quite possibly discussed on her show. For those unfamiliar, she is best known for her American talk radio program based on the intricacies of computers, the Web, and electronics.
Her weekend program reached a weekly cume of 2.25 million back in 2006. Komando.com is no slouch either. It's ranking is 1,817 in the U.S. according to Alexa.
Kim's coverage created a major spike in traffic on TypoHound, if only for a few days. For that I am extremely grateful. More than anything it's wonderful to know it's a tool people find useful and perhaps even clever.
This is what Kim had to say about TypoHound:
eBay is one of the most popular destinations for bargain hunters. You can find pretty much anything. Of course, the deals would be better without all the competition.

Alas, other people are vying for the same products you are. That drives up prices. Fortunately, great deals are just a spelling error away.

Sellers misspell product names all the time. They might leave out a letter, or include an extra one. These misspelled products often don't show up under a normal search.

That's the point behind TypoHound. Simply enter the correct name of the product. TypoHound generates a list of common spelling errors for that product name.

Click the provided link to search eBay with the misspelled words. You can find some excellent hidden deals. From there, you can use the site as you normally would. You just might be spending less.
At times it's difficult to explain what TypoHound does without confusing the bejesus out of people. Kim reaches an older audience with a basic command of the Internet, so she is used to emphasizing clarity. She did a commendable job.